Back in Easter we closed for one week for a practice makeover.
The brief was to refresh our look and create more space on the shop floor to allow for the increase in foot-flow.
Putting plans into action
Since December last year we started working on our plans.
We found a carpenter to adjust our display and create frame drawers which act as treasure troves for enticing eyewear.
We then enlisted a builder/decorator to help us create the space we needed. We knocked down a wall, built another wall, raised the ceiling and created a hidden storage area. We really had to think about how we work, streamline our processes and declutter.
Overcoming problems
As with any building work, even the best laid plans can derail.
We ran into a few issues with the alarm rewiring and the floor sanding was much more intrusive than was allowed. 
We ended up running a day late and had to close for an extra day. On that last day we felt like we were on some TV DIY show where after a day of the practice feeling like a building site, suddenly in the last hour there was a frenzy of activity to dust, deep clean, polish and organise everything to create the beautiful space we had imagined.  
The icing on the cake was at 6pm on the last day when, as I was finishing with the last few bits to prepare for a fully booked clinic the next day, I managed to lock myself out of the practice with no key, no phone, no money and no coat.
The alarm hadn't been switched on and the shutters were still needed to be locked down. After a brief panic I scouted an eerily quiet England's Lane for a friendly face.
Luckily our neighbours were in and kindly lent me a phone so that I could book an Uber (courtesy of my long suffering husband) to get me home so that I could pick up the spare keys and get back to the practice to lock up properly.
A big thanks to our team
We had a fantastic team of builders who worked so hard to meet our deadline. They found solutions instead of problems and were a pleasure to work with. The team at Perspective also did me proud with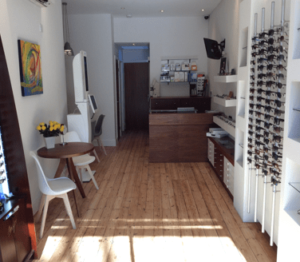 their positive attitude. They did their utmost to keep things on track and running smoothly.
The end result has been worth the blood, sweat and tears. Reaction from Perspective clients has been positive. Our dedicated, cosy dispensing area has proved a hit and the feel of light and space has made an immediate impact.
The whole experience has been 'Sisu' to borrow from the unique concept from Finland, which roughly translates as, 'Strength of will, determination, perseverance and acting rationally in the face of adversity.'
Definitely qualities that will help survive a building project.
Pay a visit to our practice whenever we're open, or book an appointment on 020 7586 5508.
https://i-perspective.co.uk/wp-content/uploads/2018/05/Perspective-Optometrists-Camden-Practice-Make-Over.png
315
560
Scenicus
//www.i-perspective.co.uk/wp-content/uploads/2017/08/Main-logo.png
Scenicus
2018-05-24 10:28:39
2019-06-21 08:50:37
Changing rooms: take a look at our snazzy new practice