Contact lenses – Offering you comfort and the best vision for your sight
When you want some time without your glasses, contact lenses provide the perfect alternative.
Contact lenses are comfortable to wear for most of the day, easy to place in and out of your eyes (after a little practice) and have evolved over the years to offer increased breathability and UV blocking properties.

Will I be assessed before wearing contact lenses?
Yes, you'll be fully assessed to check if contact lenses are the best option for you.
To ensure you can wear contact lenses, our opticians will have an in-depth discussion with you to find out about your lifestyle. We'll then examine the front structures of the eye, assess your tear film and measure your corneal curvature. This will help us find a pair of contact lenses which match your lens prescription.
You'll then be taught how to fit put contact lenses in, then how to remove them. The process might feel unnatural at first, but we'll give you all the time you need to feel comfortable about it.
Once this initial assessment is completed, we'll give you a trial period with contacts then book a follow-up appointment between one and two weeks later to check on your progress.
Will I receive aftercare from your team?
We're committed to effective aftercare, which will make sure your remain healthy. We generally recommend aftercare appointments once every six to 12 months, but you can enjoy as many appointments as you like under our Eyeplan care scheme.
How many types of contact lens can I choose from?
We offer a wide variety of different contact lenses, and will choose the best product suitable for your lifestyle.
Our selection includes:
Daily disposables
Two weekly lenses
Monthly disposables
Extended wears
Multifocals
Gas permeable
Each of these has their own unique advantages, but all will help put your eyesight at its peak. To find out more about these lenses, book your contact lens assessment today.
Can children wear contact lenses?
I had my eyes checked and bought glasses here a while ago and went back again this week because I wanted some new glasses. An unhurried and thorough eye test. No pressure to choose frames, and I'm not good at making up my mind, but they found a great pair that suited me very well. They were ready much faster than initially told.
Initially we chose Perspective Optometrists because it was conveniently near our home but since then we have moved to another borough and have chosen to stay with Perspective because of their excellent service.
The personalised service is great and the Perspective Optometrists team truly engage with their customers. I love all my glasses from Perspective and thanks to Rupal and her teams' style advice I now have glasses that really suit me.
Very good service, highly professional. Recommended.
My whole family has been using Perspective for the last few years and we are delighted with the high quality of professional service and care provided by the team. It is a friendly relaxed environment and they have a fantastic range of frames and products. I am always happy to recommend them to friends and family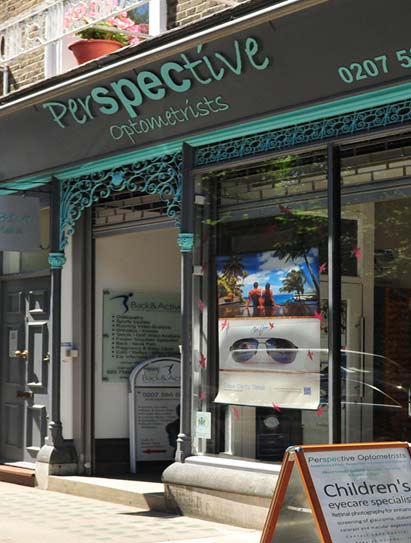 Got a question about services?
Or just want to discuss your eye health?
Simply fill in the form below and we'll be in touch ASAP
Enjoy the best in contact lens assessments and dispensing by calling 020 7586 5508 or pop into our practice