Our eye tests – well-known for their thoroughness and care
We have a team of three exceptional optometrists in London who are all very experienced, professional, thorough, and friendly! Your 45-minute eye exam, including an eye test in London, will be with one of our optometrists, who will carry out all the tests and be with you the whole time. There are no unqualified support staff members.
A lot of our clients choose Perspective because they want to see an expert. They want to see someone they have confidence in and they want to get it right. Have a look at what our clients say about their eyecare with us by reading some of our reviews.
The reason we allow a longer time for your appointment is not just about the technical bits of doing an eye exam. The extra time our optometrist spends with you means we can give you better advice and recommendations.
We take more time to find out about YOU, any concerns you have, what your preferences are, how you use your eyes, and what type of work you do. And that means we can give you the best advice and solutions because it is all tailored to you.
We have a close working relationship with the top ophthalmologists in the area, and should you require a referral for any eye health issue or need to find an optometrist near me, our experienced optometrists will be able to refer you to the right ophthalmologist, so you will be in good hands throughout.
I had my eyes checked and bought glasses here a while ago and went back again this week because I wanted some new glasses. An unhurried and thorough eye test. No pressure to choose frames, and I'm not good at making up my mind, but they found a great pair that suited me very well. They were ready much faster than initially told.
Initially we chose Perspective Optometrists because it was conveniently near our home but since then we have moved to another borough and have chosen to stay with Perspective because of their excellent service.
The personalised service is great and the Perspective Optometrists team truly engage with their customers. I love all my glasses from Perspective and thanks to Rupal and her teams' style advice I now have glasses that really suit me.
Very good service, highly professional. Recommended.
My whole family has been using Perspective for the last few years and we are delighted with the high quality of professional service and care provided by the team. It is a friendly relaxed environment and they have a fantastic range of frames and products. I am always happy to recommend them to friends and family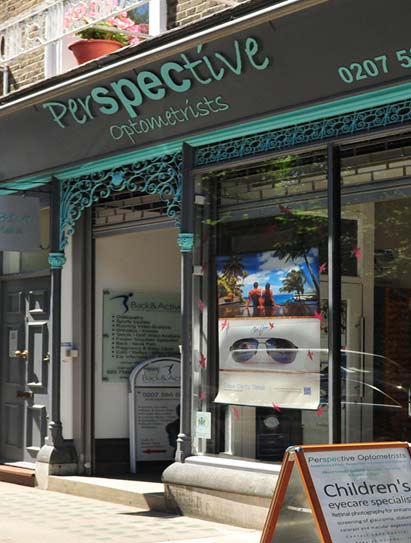 Got a question about services?
Or just want to discuss your eye health?
Simply fill in the form below and we'll be in touch ASAP
For eye tests which are accessible, friendly and professional, get in touch on 020 7586 5508 or pop into our practice