Off the Beaten Track
On a recent family holiday to Norway, during amuch needed pit-stop to refuel, we came acrossthis treat;
Kvikk Lunsj is Norwegian for "Quick Lunch", a little known four-fingered chocolate bar created by Norwegian company Freia back in 1937. I think for most of us, if asked to name a four fingered chocolate bar, KitKat would be the brand that comes to mind. Kvikk Lunsj is relatively unknown outside of Norway. When putting it to the taste test with our chocoholic 5 year old as the chief taster, the verdict was "yummy". Unfortunately we didn't have a KitKat handy to do a blind tasting but a quick Google search showed us that this "yummy" verdict was endorsed and further qualified by the Guardian newspaper in 2017. Kvikk Lunsj beat KitKat in almost every category;
Thickness of chocolate – Kvikk Lunsj has a thicker chocolate layer and feels heavier.
Taste – the chocolate taste was creamier, almost like swiss chocolate in Kviik Lunsj
Quality of chocolate – Kviik Lunsj was less sweet with a more cocoa taste coming through.
The wafer – KitKat edged it with a crispier wafer.
In-fact Nestle, who manufacture KitKat have lost several high-profile rulings against their attempts to trademark the four fingered shape. Every time this hits the news, it seems the winner is Kvikk Lunsj as it gets a little more publicity and no doubt wins over a few more taste buds.
In Norway, Kvikk Lunsj is marketed as a refuelling snack when skiing or hiking in the great outdoors which portrays a more wholesome image for a chocolate bar. There is something satisfying about stumbling upon a little known find and supporting the Davids rather than the Goliaths of this world. It is a philosophy that we employ at Perspective. We go out of our way to seek out suppliers that are niche. We are often pleasantly surprised by the passion, innovation and quality displayed by more niche eyewear companies versus the big players. They take a little more searching to find but are much more rewarding to work with in the long run.
Needless to say, we stockpiled on a supply of Kviik Lunsj at Oslo airport duty free on our journey back to London and are still chomping our way through them!
I did contemplate replacing the gorgeous Ocelot Chocolates that we gift our clients as a Thank You with Kvikk Lunsj for a short period but flying Ryan Air meant that our luggage allowance was limited. I am glad I didn't as Ocelot Chocolate is another small, family business that produces delicious, high quality chocolate and we are glad to support them. We also love the look on our clients face when they collect their new glasses and see an unexpected and enticing chocolate box waiting for them.
Upcycling
A few months back I received a phone call from an elderly neighbour. They rang to say that they have a chair that they thought my daughter would like and wanted to arrange a time for us to go and see it to decide whether we would like to keep it.
Now, my daughter Meghna is 5 and does not spend much time "sitting" so a chair was not top of her desirable items list. But she was sufficiently intrigued by the fact that someone wanted to gift her a chair that we arranged a time to have a look. We were taken through into the living room and the chair was unveiled from under its white cover. Meghna's face lit up when she saw the chair. It was a proper grown up armchair in a miniature size. After trying it out she declared "It's a perfect throne for me!", making my neighbours chuckle while alarm bells were ringing in my head!
The story behind the chair is that both my neighbour and her elder sister were gifted a chair each from their mother when they got married. My neighbour's sister, now in her mid-90's has had to go into a care home and so she sent the chair to her younger sister with instructions to find it a new home. With a story like that we could hardly say no to giving the chair a home and so it came back with us there and then.
BEFORE
That same week, during an eye examination I discovered that one of our many talented clients at Perspective, Charlotte Fletcher, has started her own upholstery business. I couldn't help but show her a picture of our newly acquired armchair and get her opinion on sprucing it up.
This was followed by an exciting visit to Charlotte's workshop in Belsize Park to discuss ideas and look at fabric options. More fabrics followed in the post, a shortlist was made and the winning fabric was democratically (with strong campaigning from me) selected. We transported the chair to Charlotte's workshop and left it in her capable hands for a few weeks. Three weeks later it was all ready to collect. I couldn't wait to see it as our fabric choice was bold and I had trouble visualising the result but I took a leap of faith – and here it is;
AFTER
We are delighted with the result. It has taken its place in our living room as a modernised, upcycled chair in a bright pink and white geometric fabric, ready for the 21st century. Hopefully, it will stand the test of time in our home too. If you have any upholstery upcycling projects, I would highly recommend Charlotte Fletcher Upholstery.
Recycling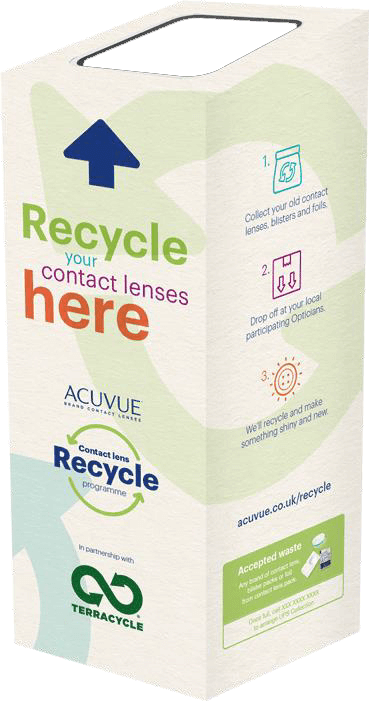 From upcycling we move on to recycling. Last month we received our contact lens recycling box from Johnson & Johnson, the manufacturers of Acuvue lenses. We can now recycle your old contact lenses and blister packs packaging. They don't have to be Acuvue lenses, any brand is accepted. The cardbox outer packaging for contact lenses can go with your household recycling, but please bring the rest to us and we'll bring out "Conti" our recycling box for you to empty it all into.
Risky Business
The general advice from some of the business consultants that operate in the optical industry is not to open a practice from scratch but to buy a going-concern with a client base that can be turned around. So, it was risky business when we opened Perspective from scratch in 2009.
Looking back, the early days were tough and mistakes were made. Some ideas worked, some failed. But building the business from nothing also meant that we were close to the pulse (our clients), we could be pro-active and make changes for the better by reacting quickly.
Along the journey we didn't always have all the answers and sometimes we just needed to try things out. This helped foster a culture of empowerment, openness and learning (often a steep curve) in the Perspective team. I am so proud of our team, who have journeyed with us through those years and kept things running.
"When you make a mistake you say Hurray and try again."
This was something that my 5-year-old told me recently. Her teacher has been encouraging her to take more risks and not be afraid of getting things wrong, explaining that this is how we learn and grow. It really struck a chord! A lesson we continue to embrace at Perspective.
https://i-perspective.co.uk/wp-content/uploads/2019/07/HAPPINESS-IS.png
383
660
Perspective Optometrists
//www.i-perspective.co.uk/wp-content/uploads/2017/08/Main-logo.png
Perspective Optometrists
2019-07-03 12:25:08
2023-08-08 11:07:37
Monthly Perspective - May 2019